If your HVAC unit is on its last legs, don't despair! The experts at our shop are here to provide you with all the information you need to make a decision on whether repair or replacement is best for you. We'll never try to upsell you on something you don't need – our goal is always to keep your system running as long and strong as possible. However, there may come a time when replacement is the best option. In which case, we hope you'll give us a call so we can get started helping you find the perfect new system for your needs!
Replacing your home's heating, ventilation and air conditioning (HVAC) system can be a daunting task. But it doesn't have to be. Here are some tips to help make the process as smooth and stress-free as possible.
Do your research. It's important to know what kind of HVAC system is right for your home. There are a variety of factors to consider, such as climate, size of your home and design of your roofline. Talk to friends and family who have recently replaced their HVAC system, or consult with a professional HVAC installer. 
Get quotes from multiple contractors. Don't just go with the first company you find – get quotes from at least three different contractors so you can compare prices and services offered. 
Schedule an installation date that works for you. You don't want to have to be without heat or air conditioning during the hottest or coldest parts of the year, so schedule your installation date accordingly.
Prepare your home for the installation team. The crew will need access to ducts, thermostats and other components of your HVAC system, so make sure they're accessible and free from obstacles like furniture or cords plugged into outlets.
Get ready for a difference in your energy bills. Your new HVAC system will likely come with a higher upfront cost, but you should see savings on your energy bills over time . Make sure you take advantage of any available tax credits or rebates too – many governments and utilities offer these incentives to homeowners who replace outdated HVAC systems.
Our 100% Guarantee to You.
Top-notch HVAC installation, done properly the first time, with Multiple Quality Control Checks
Best value and fair price for the Best HVAC System Available
Replacement and Installation FAQs
Eventually all air conditioners need to be replaced, but often a repair is all you need
We're often asked which Heating and Cooling system is the best. Though we are not "attached" to any specific HVAC manufacturer, we do highly recommend Trane HVAC units. However, we will work with you to find the best option your specific home and needs.
Browse Trane products.
We do have financing options. Please call us about your options with our guidance.
HVAC Trane & Mitsubishi Products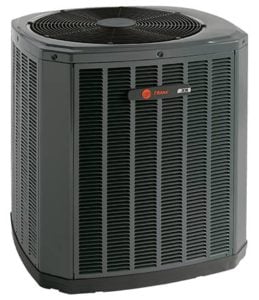 Browse Trane & Mitsubishi Products